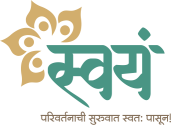 Started in 2014 as an experiment by few like minded enthusiasts, Swayam has, now, turned into a 'movement of inspiration' connecting hundreds of innovators and entrepreneurs to the common people in the society through interesting mediums such as talks, films, blogs and podcasts. As on date, this wave of Entrepreneurship, Creativity and Goodness (ECG) is virtually inspiring over 3,00,000 minds on all social media platforms.
Swayam Talks is a unique platform where extraordinary individuals from various fields as diverse as Science & Technology, Art & Culture, Business, Environment, Social Service, Sports & Adventure and Education share their inspiring ideas with the audience. The uniqueness of this platform lies in the crisp but powerful storytelling by the speakers and in-depth and engaging interviews by the renowned journalist Dr Uday Nirgudkar. The Talks and Interviews are aided with multimedia presentations and films which makes the entire experience enriching and unforgettable! This offline ticketed event is attended by scholars, intellectuals and enthusiasts ranging from students to stalwarts. The talks are primarily in Marathi and Hindi languages.
Apart from its flagship Annual Day-Long Program in Mumbai, Swayam Talks have been held in Pune, Aurangabad, Nasik, Jalgaon, Solapur and Thane. Every year, the 'Swayam Community' looks forward to getting inspired by the powerful stories of the relatively unknown extraordinary and passionate individuals.
We believe that the digital medium has massive power to spread ideas and thoughts, surpassing geographical boundaries and barriers. Therefore, inspiring thoughts and ideas presented on this platform are made available on the 'Swayam Talks' Mobile App (Android and iOS) as well as our website. This Subscription-based digital platform consists of inspirational talks, podcasts and blogs.
To know more, do watch this short video about Swayam स्वयं काय आहे ?